iClick Interactive (NASDAQ: ICLK): Tapping Into the Mind of the Customer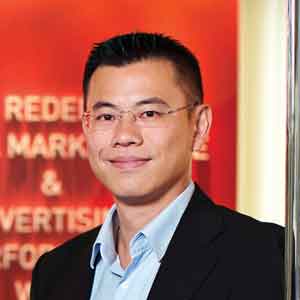 Sammy Hsieh, Co-Founder, and Chairman of the Board of Directors
Since time immemorial, advertisements have always been crucial to businesses, institutions, and even government agencies to convey their ideas and principles to the masses. While there is a rising trend in ads to have a catchy jingle or a tacky catchphrase to reel in consumers, the truth of the matter is that most of these fail to reach the right demographic. An advertisement, no matter how well-made, falls flat if the company does not understand what their consumers need at the moment. This is easier said than done, but iClick Interactive has nonetheless made it easy for brands—both local and international—to optimize their online marketing efforts most cost-effectively, and help create more impactful advertisements.
By positioning its solution as an 'Integrated Enterprise and Marketing Cloud Platform', iClick Interactive broadens its clients' horizons in reaching the right audience within Chinese markets. What began as a programmatic company, iClick has evolved into an organization that provides advanced marketing technology through its proprietary omnichannel as well as cloud-based and autonomous platform. "As one of the top marketing technology companies, we stay close with market trends, and always look for innovative ways to deliver greater value to end-users," says Sammy Hsieh, Co-founder, and Chairman of the Board of Directors at iClick Interactive.
Unlocking its clients' true potential, dormant in their existing consumption power, as well as enhancing their consumers' loyalty via data analytics solutions is the core philosophy turning the gears of the company.
In today's hyper-connected world, big data—abundantly available as a by-product of soaring online transactions—has a value that goes far beyond a simple marketing campaign delivery. iClick's enterprise solutions help the marketers who realize the importance of this data, yet lack the technology to process the mind-boggling volumes of it, and turn it into actionable, monetizable insights to improve overall business and marketing efficiency. The solution suite helps clients collect, integrate and analyze both online and offline consumer data, including social platforms, Official Accounts, WeChat Mini Programs, mobile apps and offline stores. It also enables businesses to use such digital-driven knowledge to garner sophisticated insights that facilitate better marketing and consumer engagement decisions and keep potential prospects engaged better. Marketerswho face hurdles in performance tracking can also use iClick's solutions to break down data silos, monitor, and measure the results of marketing campaigns. This allows businesses to provide customers, who represent diverse demographic profiles, with personalised content on suitable distribution channels, via both PC and mobile devices.
As one of the top marketing technology companies, we are constantly trying to stay in tune with market trends, and looking for innovative ways to deliver greater value for end-users
Built on a highly scalable and reliable cloud-based infrastructure, the marketing platform collects and analyzes 0.8 TB of data on average each day. These data are obtained from multiple sources such as digital campaigns, over 110,000 mobile apps, and two million websites. With a growing consumer base of825 million, in China alone, the platform allows brands to gain a deep, multi-dimensional understanding of customer behavior. iClick's core marketing product line includes iAudience and iAccess. While the former is a data-management platform that allows these marketers to identify more insights of the targeted audience and provide a list of highly potential consumers, iAccess is a one-stop, cross-channel targeting solution specifically built for agencies and brands. The two products work hand-in-hand to provide an integrated and effective marketing solution for brands.
The collaboration between iClick Interactive and Armani Hotel Dubai is a great example that drives the point of the company's data analytics for consumer understanding. With the UAE gearing up to welcome a growing wave of Chinese tourists, Armani Hotel Dubai upgraded its facilities and expanded its operations to accommodate the new guests. However, it needed an advisor to help fill the culture gap and break the language barrier to run digital campaigns. "Trying to push any marketing campaign in China without local expertise will ensnare companies in a 'twice the efforts, half the result' trap," says Hsieh. iClick tailored an optimal solution for the hotel to increase brand awareness and booking rate from China, which was the target market for the client. The solution connected the client to the Chinese audience via the country's most popular websites, which resulted in a staggering 87 percent increase in the reach of Chinese customers.
Regarding iClick's development into a globally integrated marketing and enterprise cloud platform, its strategic partnership agreement with BTG WELINK, the online retail services arm of Beijing Tourism Group, one of the top ten tourism service groups in China, marked an important milestone. "The partnership represents a significant opportunity for iClick's Enterprise Solutions business, as we help BTG build a unified customer relationship management system spanning over 100 brands across eight industry verticals," says Hsieh. By utilizing iClick's strengths in business intelligence and digital marketing, BTG is tapping the potential of smart retail by providing its customers with an array of smart lifestyle O2O solutions. "We have successfully deployed our Enterprise Solutions with a number of well-known international brands, this partnership is another powerful example of our ability to provide top tier clients with targeted, customized solutions," Hsieh continues.
iClick Interactive has pioneered programmatic marketing strategies in Hong Kong and Mainland China since 2009—a time when the world economy was still reeling from the hit of the 2008 financial crisis. Riding on its original advertising business, iClick has established a product and innovation center in 2019 to support the company's increased R&D investments in new products and solutions in the fields of Enterprise CRM, cloud, AI and blockchain.
The multi-million dollar NASDAQ-listed company covers 98 percent of internet users in China. It stays firm in its marketing technology and data capabilities despite the recent the Coronavirus outbreak and other geopolitical issues that affect trades. On a concluding note, Hsieh says, "We strive to stay on the front foot in meeting client's needs amidst the fast-changing marketing and business environment.Leveraging our data and technology capabilities, we'll continue to enhance our Integrated Enterprise and Marketing Cloud Platform to deliver the best value to our clients."